Big Sky, Montana is a mountain town paradise during winter and the summer. Well known for the world-class Big Sky Resort and its close proximity to Yellowstone National Park, Big Sky is the ultimate winter destination.
1. Skiing at Big Sky Resort
Big Sky Resort aka The Biggest Skiing in America is a world-renowned ski resort. Most known for the iconic Lone Peak Tram and long perfect groomer runs, Big Sky is a great place for a ski trip. The mountain has plenty of terrain for beginners and family trips and also contains expert terrain for more experienced skiers.
Check out our post about the Best Runs at Big Sky Resort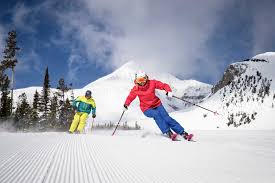 2. Yellowstone National Park
Located just 45 minutes from Big Sky, Yellowstone is known for summer trips to the park. Most of the roads in the national park close during winter. But, the park is accessible via snow coach, snowmobile, and cross country skis. This brings a whole new experience to the calm, uncrowded national park.
See our post about Yellowstone in the winter for all the information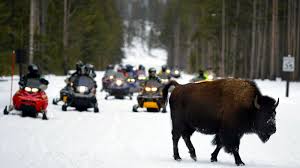 3. Big Views and Starry Nights
Believe it or not, Big Sky has some amazing views and an even better night sky. The breathtaking views are everywhere in Montana. From the top of the Lone Peak Tram, you have views of 3 states, 2 national parks, and on a clear day, you can even see the Grand Teton.
While staying in Big Sky, the night sky is hard to look away from. We love looking up from our hot tub into the stars at night.
When you stay with Moonlight Vacation Rentals each property comes with a private hot tub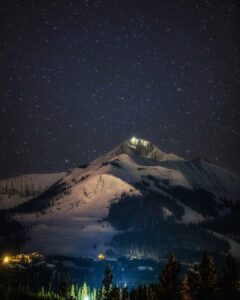 4. Ski In Ski Out
Unlike most ski destinations, the lodging around Big Sky Resort is built on the mountain. This means that select locations have no need for transportation to and from skiing. There are even some ski-in ski-out lodging options where you can put your skis on at your doorstep and ski to a lift!
Check out Moonlight Vacation Rentals for your lodging in Big Sky, all their properties are ski-in ski-out

5. Winter Activities
Other than skiing, there are countless activity options during the winter in Big Sky. Such as:
Snowmobiling
Cross country skiing
Sledding
Ice skating
Snowshoeing
Sleigh rides
etc.
For details on all these activities, see our post about day off activities in Big Sky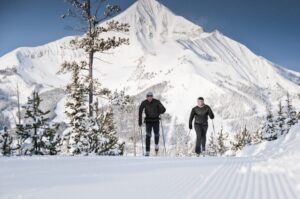 Enjoy your winter adventure in Big Sky! And stay safe out there!
For more information about Big Sky see our other blog posts at The Best of Big Sky Blog.
Looking for lodging in the Big Sky/Yellowstone area? Check out Moonlight Vacation Rentals, the best vacation rental company around, offering beautiful 2, 3, and 4 bedroom cabins, condos, and homes. They have some great deals on fall rentals right now.