Big Sky Resort is a massive mountain and can sometimes be hard to find ski trails appropriate for your skill level. Here are some of the best ski runs at Big Sky for each skill level.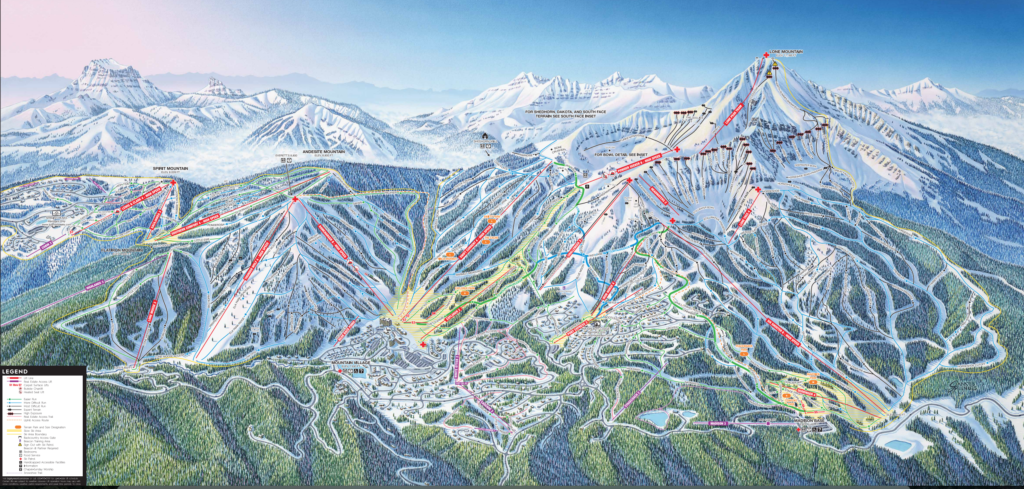 Beginner Ski Trails
Mr. K: Mr. K is a staple Big Sky run, it is accessed from the Swift Current lift and is one of Big Sky's best beginner trails. It is a low angle long trail that is groomed every night.
Safari: Safari is another amazing beginner trail at Big Sky. Accessed from the Ramcharger 8 person lift, this trail cuts across Andesite mountain and takes riders on a long ride.
Intermediate Ski Trails
Elk Park Ridge: If you like long, steep groomers they Elk Park Ridge is the run for you. This blue square offers a consistent, steep slope for riders to venture down. It is located off the backside of Andesite Mountain and can be accessed from the Ramcharger lift and the Thunder Wolf lift.
Calamity Jane: If you enjoy Mr. K and are looking for a little bit of a challenge, check out Calamity Jane. This run goes underneath the Swift Current lift and offers a slightly steeper slope than Mr. K.
Big Tree Cutoff: Big Tree Cutoff is the first non-groomed run on this list. It is located on the backside of Lone Peak and can be accessed from the 6 Shooter lift and the Lone Tree lift. This run offers beginner skiers a fun tree run with a low slope angle.
Expert Ski Trails
Liberty Bowl: As an expert skiing at Big Sky Resort, there is no better run than Liberty Bowl. Take a ride up the Lone Peak Tram and drop off the backside to reach the top of Liberty Bowl. This black diamond run has a perfect slope angle and the strong alpine winds keep this run bump free.
Mad Wolf: Mad Wolf is another one of Big Sky's amazing black diamonds. This run starts at the top of Thunder Wolf and drops 1000 vertical feet off the backside of Andesite mountain. Unlike Liberty Bowl, this run is full of bumps, if you like skiing moguls, Mad Wolf is the run for you.
Advanced Ski Trails
Marx and Lennon: If you like skiing high alpine off the Lone Peak Tram, Marx and Lennon are the best runs one the mountain. Steeper than Liberty Bowl and just as long, these runs are a must ski for any advanced skier at Big Sky Resort.
North Summit Snowfield: The North Summit Snowfield is another amazing run off the top of Lone Peak. This run has the largest vertical drop of any run at Big Sky and holds the best snow on the mountain.
Professional Ski Trails
Big Couloir: The Big Couloir is one of the most iconic ski runs in North America. Descending right under the tram, this narrow chute goes from Lone Peak down to the top of the bowl. The run also requires riders to have a beacon, shovel, and probe. Like the North Summit Snowfield, groups of 2 are only allowed down the run in 15 minute intervals.
Three Forks: Three Forks is another one of Big Sky's professional level runs. Three Forks can only be accessed from the Headwaters Hike, a 30-45 minute walk along a very narrow ridge. Hikers are always rewarded with high quality snow and amazing views. Three Forks is comprised on three steep chutes that descend into the Headwaters Bowl.
Let us know if you make it to all of these ski runs! Enjoy your stay your winter in Big Sky! And stay safe out there!
For more information about Big Sky see our other blog posts at The Best of Big Sky Blog.
Looking for lodging in the Big Sky/Yellowstone area? Check out Moonlight Vacation Rentals, the best vacation rental company around, offering beautiful 2, 3, and 4 bedroom cabins, condos, and homes. They have some great deals on winter and summer rentals right now.