Being located deep in the Rocky Mountains, Big Sky has a long-standing mountain bike culture and an amazing trail network. From scenic cross country rides to steep downhill, Big Sky trails have it all.
Experts to novices, there's a bike trail out there for you, Big Sky is a great place to try your hand at mountain biking. This summer on your trip to Big Sky rent a bike and try out your skills at one of the trails listed below or one of the countless others in the Big Sky area.
Mountain To Meadow
The Mountain To Meadow bike trail is the best-known trail in town. It starts at the Big Sky Resort Base Area and ends in the town of Big Sky. Follow the well-marked trail for a 2-mile climb up Andesite Mountain. From there its all downhill, full of perfect bermed turns! Nearly 4 miles of uninterrupted downhill takes you all the way to the neighborhoods of Big Sky where you can traverse back into the Town Center.
Difficulty: Medium
Distance: 5.8 miles
Bike Needed: Cross country or better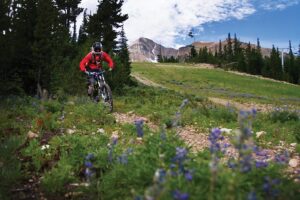 Big Sky Town Center Trail Network
The Hummocks Trail and the surrounding trails are great for beginner riders. Located just outside the Big Sky Town Center, the Hummocks Trail is a fun and easy ride. Additionally, there are multiple trails connected to the Hummocks Trail such as the Uplands Trail and Ralphs Pass Trail.
Difficulty: Easy
Distance: 2.8 miles
Bike Needed: Cross country or better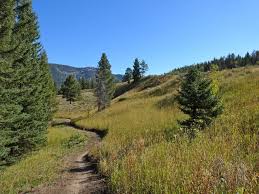 Big Sky Resort
Best known for its world-class skiing, Big Sky Resort also runs their lifts for mountain bikers. The terrain offered varies from beginner to professional. The best part about riding Big Sky is the absence of climbing uphill! Rent a bike from the base area and if it's your first time, you can book a guide for assistance.
Difficulty: Easy-Pro
Distance: Over 40 miles of trails
Bike Needed: All mountain or better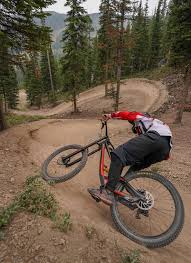 Michener Creek
Big Sky's newest bike trail is built to perfection! The Michener Creek trail is a 3-mile loop great for all levels of biking. The climb is easy and the downhill is full of jumps and berms. This is a great trail to go for a quick ride or a long afternoon lapping runs.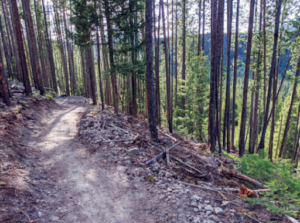 Let us know if you make it to bike any of these trails! Enjoy your stay this summer in Big Sky! And stay safe out there!
For more information about Big Sky see our other blog posts at The Best of Big Sky Blog.
Looking for lodging in the Big Sky/Yellowstone area? Check out Moonlight Vacation Rentals, the best vacation rental company around, offering beautiful 2, 3, and 4 bedroom cabins, condos, and homes. They have some great deals on summer rentals right now.